1 » Former Florida Gators swimmer Ryan Lochte, set to be one of the primary faces/athletes representing the United States in the upcoming 2012 London Olympics was announced as the fourth male to ever grace the cover of American Vogue magazine when the June cover was released on Monday. Lochte appears on the cover alongside women's soccer goalie Hope Solo and tennis phenom Serena Williams. The three men that were previously featured on the cover of Vogue – Richard Gere, George Clooney and LeBron James – each appeared alongside a female model "Cindy Crawford, Gisele, and Gisele again, respectively," the magazine notes.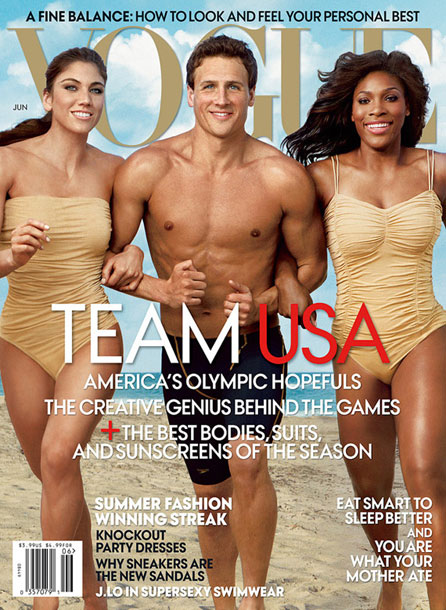 2 » Traded to the Orlando Predators recently after falling out of grace with the Jacksonville Sharks, former Florida quarterback Chris Leak will start his first game with his new team on Friday. Leak, who has already appeared in two games for Orlando as a backup and has amassed 78 yards and three touchdowns on 9-of-17 passing, hopes to turnaround the season for a team that has started a paltry 1-7. The Predators hope Leak can be the team's starter for a long time and have plans for him to be a franchise player as long as he succeeds.
3 » Gators senior right fielder Preston Tucker will begin his final regular season series in the orange and blue looking, in part, to set the school record for career hits. Smacking a single on Tuesday, Tucker tied former Florida outfielder Mark Ellis for the career mark with 319 hits; one more and the record is all his. UF is set to face Auburn in a three-game road series Thursday-Saturday before beginning postseason competition.
4 » As part of an outreach program that will attempt to generate "excitement and energy" for the team heading into the 2012 season, the Jacksonville Jaguars will be visiting Gainesville, FL with a "Jaguars Caravan" including players, coaches, cheerleaders and other team representatives, according to The Gainesville Sun. As part of the event, which will take place on June 6 at Tioga Town Center from 6-8 p.m., Gators fans will be able to see some familiar faces in former Florida tight end Mike Mularkey (Jacksonville's head coach), current Jaguars defensive end Jeremy Mincey and former Jacksonville running back Fred Taylor.