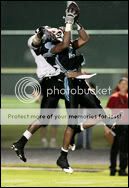 Three-star wide receiver Ja'Juan Story (Brooksville, FL) has verbally committed to the Florida Gators, according to the St. Petersburg Times. Story, who visited the University of Florida last week with his uncle, decided to cash in his offer from the Gators and become the ninth member – and second pass catcher – of the team's 2011 recruiting class.
With offers from numerous other programs including Miami (FL), Florida State, Ohio State and Notre Dame, Story said that his recent visit showed him "everything I've needed to see."
"It was amazing. I got along well with the coaches. When I talked to the academic man, I liked what they had in store for me," he told the paper. "I don't even see why I should go somewhere else. […] I told them I've been thinking about it and Florida is a school that can help me with what I want to do in life. I want to earn my master's degree. That's a good school for me to go to. They have a nice campus. I won't get bored with it. I plan on going there for four years."
Story, who also plays quarterback in high school, joins four-star WR Javares McRoy (Lakeland, FL), who accepted his scholarship offer on June 10.
Photo Credit: St. Petersburg Times