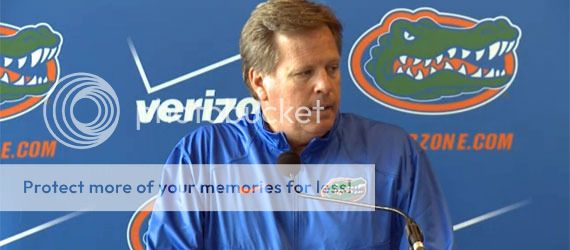 Head coach Jim McElwain took the field with the Florida Gators for the fourth and fifth time on Tuesday and Wednesday as the 2015 spring practice session rolled along. After both practices, he met with the media to discuss some of the early goings on with the team.
Opening statement (Tuesday)
"I was really happy with today. The way the guys adapted [to a canceled practice on Monday], the way they improved and then just the way they went ahead about their business. I thought we got a lot of really good situational work today, especially third down and mid-red area. When you take over, when you're installing, [that is]one of the things that's hard because there's so much new learning getting in and really operating in the situational stuff. So that was good.
Opening statement (Wednesday)
"Practice today was the first day in full pads. We got some good live drills in. I thought 3rd and short was really good for both sides of the ball; offense did a good job of staying on the field, which was good. … It's also great out there at practice seeing the former Gators that are coming back and taking a look. For me, that's really what a program is all about, those guys that gave their all for this university, and for them to come back and support these current Gators, that's something that's pretty special. There's been a lot of them and that's something that's exciting to see."
Wideouts steadily improving
Much has been made of the turnover on Florida's offensive staff and nowhere has it been felt more than in the wide receiver meeting room where the position group's had seven different teachers in the last seven seasons.
Despite that, some slightly-improved recruiting under Will Muschamp provided the Gators with underutilized talent at the position, and McElwain said Tuesday that he is just starting to see them turn the corner.
"I think the receivers stepped up and had a really good day as far as the learning aspect," he said in regards to Tuesday's practice. "There's a lot of new things going in for those guys when you talk about the multiple formations, shifts, motions, things that we do and the different tempos. I think they really stepped up, really stepped up from a learning standpoint, and I thought did some good things."
McElwain plans to travel with 11 wideouts and use nine in any given game. There will be starters, second-stringers and others that may have a package of just 3-4 plays. What is important now for Florida is identifying which players can be counted on and how often.
"The idea is to get as many guys involved as we can. We're not there yet necessarily, but we're finding out what some of these guys can do. Especially now we're getting ready to add some of the speed sweep stuff and some of that thing to go in, so it will be interesting to find out kind of who those guys are," he said.
Far from resolved quarterback battle
Redshirt freshman Will Grier and sophomore Treon Harris are at the very beginning of their battle for the starting quarterback job with it unlikely that McElwain names a first-stringer at the end of spring practice.
Nevertheless, everyone wants to know how the Gators' signal callers are doing on the field, but McElwain seems equally concerned with the learning process off the gridiron.
"The big thing there is teaching the understanding. … Right now what we're trying to do with the quarterbacks is [figuring out] how they handle the operation," he said.
"The maturation has been OK. Am I ecstatic about it? No. But there's a lot of new stuff being thrown at them including operating both from under [center], from pistol, from gun. Obviously the blitz, we do heavy blitz work every day. Their identification and understanding hot principles and those types of things has just got to continue to get better."
Florida switched the jersey colors of the offense and defense this week to find out whether that change would cause Grier and Harris to throw interceptions. They did, though finding out how many – or who threw more – from McElwain is a fool's errand.
He did, however, provide some stats (off the top of his head) from a recent routes on air (exactly what you think) throwing drill.
"[It's] one of the most important drills that we do because it's the focus of the detail of playing catch," said McElwain, who noted that Grier was 26-of-29 (two drops) and Harris was 27-of-29 (two drops).
"What they've got to understand is every single rep that they take they've got to prepare and execute as if it's the last rep they're every going to take. Trying to understand that, focus on every drill, the footwork that it takes to accomplish the task at hand is something that is kind of new to them for whatever it's worth. And the emphasis of the detail."
Harris dealing with a tragedy
Writing extensively on his social media accounts on Tuesday evening, Harris let it be known publicly that a death in his family was shaking him to the core. He is currently in Miami with his family and did not practice with the Gators on Wednesday. It is currently unknown when he will return to the team.
"We were a guy short out there today. It really kind of puts everything in perspective when you kind of do this kind of stuff, get involved in these young men's lives. Treon Harris didn't practice today, heck of a tragedy in his family occurred back home. He's still here [with the team] but you really kind of wonder sometimes the true importance of what we do when it comes to family and really how important 3rd and 6 is," McElwain said.
"Right now our hearts go out to him, his family and kind of what he's going through. We're here to support him and his mom and aunt in every way we can. He wasn't out there today, and when he'll get back will be when it's time to get back. Obviously family first in everything that we do in our program here at the University of Florida. We're with him in every way."
No need for a fullback
To his own surprise, McElwain was asked Wednesday about having a fullback on the roster and what direction Florida planned to go with that position. His answer, though he made it sound a bit more complicated, is that the Gators will not be using a fullback, a position he described as "a lot art" that is not used much these days.
"I don't really know what a fullback is. We don't … H-back guy? Yeah, I gotcha. We don't have any true fullbacks. We try to create edges with multiple formations with the tight ends. Right now that group is young, but I think we've got the ability to get into some silver and do some effective things to try and gain an advantage both in the run game and in the pass game, being able to empty out against their base defenses, using their personnel groups to our advantage," he explained.
"Those are some of the things with some of those H-type guys that have been bigger receivers that are growing into the position to learn how to put your hand in the dirt. That versatility helps you on offense."
So which young tight end will jump back there when the Gators need a lead blocker? That certainly remains to be seen. On the goal line, though, it may be none of them.
"We will try to identify a body type for that as we get into some of our goal line, short-yardage stuff. … We haven't gotten our black package and jumbo package. That's kind of one of those things we'll try to identify that kind of body," McElwain continued.
"I think back to Alabama when we used Terrance Cody back there. I think [redshirt freshman defensive tackle Taven [Bryan] might be one of those guys that we use back there in that kind of situation."
Odds and ends
» Offensive line depth, or lack thereof, is starting to become a problem for the Gators. "You can see our lack of bodies at offensive line is hurting us a little bit, especially as we try to create as many of those situations as possible," McElwain said. "And yet, those guys are learning and scrapping and that's what we can ask."
» Florida began incorporating live situations during practice on Wednesday with the Gators tackling to the ground. That will continue on Saturday during a live scrimmage. McElwain said he will use a version of the Oklahoma drill, now called the "Gator drill," obviously, in which players go head-to-head based on position group (wide receivers vs. defensive backs, offensive linemen vs. defensive linemen, etc.
» McElwain on how his overall perception of the team: "I really like these guys, man. They like what they're doing, you know what I'm getting at? It's not pulling teeth, so to say. They really enjoy playing the game of football. They enjoy practicing. They're into it. That's really what you can ask as a coach. The learning is really the next step but the want to and the willingness is there, and so, it's fun being around them. I enjoy kind of how we do everything as a team. They're fun to be around."