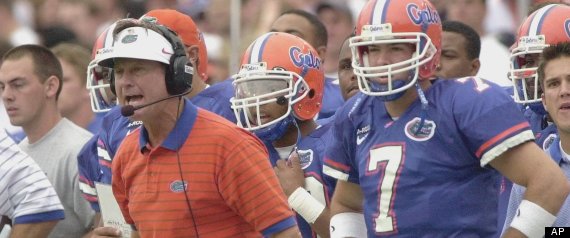 A Heisman Trophy-winning quarterback and national title-winning coach with the Florida Gators, Steve Spurrier ended his collegiate coaching career on Tuesday, resigning from his post with South Carolina after 10-plus years with the program. In all, Spurrier compiled a 228-89-2 record over 26 seasons, going 122-27-1 (87-12 SEC) while at Florida.
He led the Gators to their first national title in the 1996 season, also winning six SEC championships and seven SEC East crowns. Spurrier was named SEC Coach of the Year at Florida five times and took the Gators to a second national title game, which it lost in the 1995 season, one year before he returned to the game and won.

Spurrier brought the Gators to the first five SEC Championship Games ever played and led the program to its first SEC title in 1991. Of course, his time at Florida will also be remembered for the introduction of the Fun 'n' Gun offense, which many believe helped revolutionize college football.
As a player, Spurrier was a two-time All-America First Team selection; he won the Heisman Trophy and Walter Camp Memorial Trophy in 1996, the same season he was named SEC Player of the Year. Spurrier compiled 4,848 passing yards and 37 touchdowns at Florida, but he did more than just throw the ball, also serving as the team's punter and kicker on occasion.
Spurrier's first coaching job was as an assistant at Florida coaching quarterbacks in 1978. He moved on to the same position at Georgia Tech (1979) before taking over as offensive coordinator at Duke (1980-82). After a short professional stint, he returned to Duke as head coach (1987-89), leading the Blue Devils to a 20-13-1 (11-9-1 ACC) record in three seasons. Duke went to its first bowl game in 29 years and won a share of the ACC Championship for the first time in 37 years under Spurrier, a two-time ACC Coach of the Year (1988-89).
Spurrier, of course, concluded his career with the Gamecocks, going 86-49 (44-40 SEC) in 10-plus seasons. South Carolina won its first and only SEC East title in 2010 under Spurrier, who led the program to a 33-6 record from 2011-13 (three straight 11-2 seasons). A two-time SEC Coach of the Year with the Gamecocks, he earned that award a total seven times in the 22 full seasons he coached in the league.
Spurrier only truly struggled in the professional ranks. The No. 3 overall pick in the 1967 NFL Draft by the San Francisco 49ers, he spent nine seasons as a backup and ended his career with the Tampa Bay Buccaneers, leading the team to its inaugural (winless) season in 1976. His career NFL numbers (40 touchdowns, 60 interceptions) did not stop the USFL's Tampa Bay Bandits from hiring Spurrier following his two-year stint as coordinator at Duke. He did succeed in the USFL, going 35-19 over three years before returning to Duke as head coach and spending 15 combined years in college after being hired away from the Blue Devils by the Gators on New Year's Even in 1989. Of course, Spurrier left Florida for Washington, where he signed the richest coaching contract in NFL history at the time (five years, $25 million) but only lasted two seasons, going 7-9 in 2002 and 5-11 in 2013, before leaving and going back to college at South Carolina.
But Spurrier's career was about so much more than awards, wins and championship. It was about moments and all of the people his coaching and boisterous personality touched on the field, in the locker room and even from behind the microphone.
Did you know? Spurrier was one of the very first Gatorade test subjects? As a player at Florida during Gatorade's invention 50 years ago, Spurrier was one of the very first to sample and utilize the benefits of the sports drink.
Did you know? Kicking a field goal had as much to do with Spurrier winning the 1966 Heisman Trophy as his quarterbacking. Undefeated Florida faced Auburn on homecoming in 1966. Spurrier, already a household name nationally and a star with the Gators as a quarterback and punter that season, was a top contender for the Heisman but solidified himself as the clear-cut winner in that game. He drove Florida down the field on a 71-yard touchdown drive in the fourth quarter before coming on as a kicker for the Gators with 2:12 remaining and booting a game-winning field goal, pushing UF over its then-rival 30-27. Why did Spurrier kick the field goal? Spurrier claims he asked Ray Graves for the opportunity; Graves, however, contends that Spurrier took the field on his own and did not give the coach a choice. It was Spurrier's only field goal attempt that season. In that game alone, Spurrier threw for 259 yards and a touchdown, ran for another, averaged 47.4 yards on six punts and kicked a 40-yard game-winning field goal – all the same week voters received their Heisman ballots. Yup, that'll do it.

Did you know? Ed Sullivan's cameraman thought Steve Spurrier was Syracuse running back Floyd Little. Sullivan thought Spurrier went to Miami.

Did you know? Spurrier was the first to display his Heisman at the school, resulting in the creation of duplicate trophies. Like most awards, the Heisman was a single statue, given to the winner to take home each year. Spurrier decided that the trophy deserved to be seen by more than his family, noting that it was an award for the school and fans, too. As such, he gifted the trophy to UF president Dr. J. Wayne Reitz so it could be displayed for all Gators to see. Florida students learned of Spurrier's gift and refused to allow him to go without a trophy of his own, so they started a fundraising drive to purchase a replica trophy from the Heisman trust for Spurrier. The Heisman trust the next year gave out two versions of the trophy, the original for the player to take home and a replica for his school. The original 1966 Heisman Trophy is currently on display at the Heavener Football Complex next to Ben Hill Griffin Stadium.
Did you know? Spurrier named The Swamp. "The Swamp is where Gators live," Spurrier explained in an interview. "We feel comfortable there, but we hope our opponents feel tentative. A swamp is hot and sticky and can be dangerous."
Did you know? Spurrier ran the hidden ball trick play in a game … and it worked.

Did you know? Spurrier once took a safety on purpose. (It didn't work, though.) Faced with 3rd and 57 in a game against Mississippi State (one in which Florida trailed 31-23 with 9:38 to play), Spurrier instructed then-quarterback Rex Grossman to purposely take a safety, putting the Gators down by nine. Florida eventually lost the contest by 12.
Did you know? Former Gators linebacker James Bates does an incredible Spurrier impression … and will break it out at any time if asked.

Did you know? Spurrier wore a visor on the field because he wore it on the golf course. Of course. "Well, I've always worn a visor on the golf course," Spurrier told a reporter in 2012. "When I got to Florida, it was only natural to get some visors with the Gator logo on it. That's when I really started wearing it, in 1990." A number of coaches today, including Ole Miss' Hugh Freeze, wear the visor in part out of respect to Spurrier.
Did you know? Spurrier did a comedy impersonation bit in front of the media … this August. Tired of hearing and reading about coaches slamming their teams during the first week of fall practice, Spurrier impersonated the attitudes of most of those coaches in front of a gathered group of South Carolina media.

Quotes
This could obviously go on forever. Here are just a few choice quotes from Spurrier over the years, including some that he will best be remembered by.
(After a fire at an Auburn library) "The real tragedy was that 15 hadn't been colored yet."
"You know what F.S.U. stands for, don't you? Free Shoes University."
(After FSU players hit Danny Wuerffel with cheap shots) "He's like a New Testament person. He gets slapped up side the face, and turns the other cheek and says, 'Lord, forgive them for they know not what they're doing.' I'm probably more of an Old Testament guy. You spear our guy in the earhole, we think we're supposed to spear you in the earhole. That's kind of where we're a little different."
"You can't spell 'Citrus' without U.T."
"I know why Peyton [Manning] came back for his senior year: He wanted to be a three-time Citrus Bowl MVP."
"Why is it that during recruiting season [Georgia] signs all the great players, but when it comes time to play the game, we have all the great players? I don't understand that. What happens to them?"
"I sort of always liked playing [Georgia] that second game because you could always count on them having two or three key players suspended."
(After beating Florida in The Swamp) "Apparently, Gamecocks get out of here alive, too."
(After Jadeveon Clowney got a speeding ticket) "I didn't know Jadeveon's car that could go that fast. He doesn't have a pretty car like those FSU guys used to drive."
"All I can say is that I'm going to try to coach the way I've coached in the past, and if it ends up not being good enough, then so be it."
(Tuesday) "OK, let's get moving. I've had enough here."
Tweets