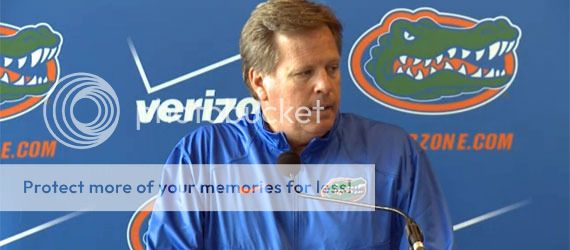 Head coach Jim McElwain took the field with the Florida Gators for the sixth time on Friday as the 2015 spring practice session rolled along. After practice, he met with the media to discuss some of the early goings on with the team.
Opening statement (Tuesday)
"It was really important to get today's stuff [installed], which are a lot of situations that are going to be executed [Saturday] when we do some scrimmage work – things like coming out, obviously a couple of the two-minute situations. We'll work basically four different two-minute situations [Saturday] as an introduction. We want to make sure we hit that today, and I thought they handled that well. Also, work some different areas in the red area as well as some last play ideas, so in other words, no time on the clock, you're not wasting it you're actually working the situation. The kids know the exact play that you're going to work and then obviously the defense might get caught into a personnel group that might not fit necessarily the formation that they're seeing. Defensively understanding situations.

"It was some really good stuff that I thought occurred today. The guys, I'll tell you what, this group is willing participants, man. It's great to see. They've really grasped the idea of helping each other get better. That's really what it's all about. It's good to see."
On the mend and out of action
To this point, McElwain has raved about no individual player more than he's praised sophomore Brandon Powell. A running back who has been converted to wide receiver by McElwain, Powell was proving a quick study of the new Gators offense and learning his new position with relative ease.
That is until Powell's foot began bothering him. He was held out of practice earlier in the week and has now been sat down for good with what McElwain described as a "hot spot" on his heel that needs treatment and special footwear.
"We're going to hold Brandon Powell, which is a big loss, because man he was flying around making plays," he said. "Now, he'll be back. … I'm one of these coaches that will not put a player out there until it's all cleared. So we're going to hold him from any contact, any scrimmage work, all that kind of stuff while we get a shoe fitted and kind of make sure [he's OK].
"He's a guy, for example, that had really adapted well to that wideout spot and was doing some really good things. But what that means is now somebody else gets an opportunity to get those reps. That's how this works."
Outside of Powell, McElwain would not mention any other potential Florida playmakers by name, citing the fact that it is still too early to know how the players will learn the offensive system, let alone perform on the field.
"We've probably had 10 percent of the package in, maybe 11.6, I don't know, not very much," he said. "Right now, it's an understanding of seeing just how they go about their business a little bit."
Recruiting with (lack of) depth
Unlike the Gators' last head coach, who was bothered when high school prospects cared deeply about depth and asked him about it more than once during meetings, McElwain has no problem discussing with recruits where Florida currently has holes on its roster.
In fact, as players have been visiting spring practice over the last two weeks, McElwain hopes they notice how depleted UF is at certain positions, such as running back, offensive line and linebacker.
"Their opportunity to come see how we practice is awesome, and their opportunity to come see maybe where the numbers are on the different lines and kind of see where maybe they might not have to stand in line as long [is awesome, too]," he said. "They might be in the fast pass line to get on the ride.
"Any time they get to see us coach, see us compete, to every one of them, they love the way we're going about our business and we've had some really good responses."
Odds and ends
» Sophomore quarterback Treon Harris missed his his third practice this week while at home in Miami mourning the loss of his cousin, who was murdered this week. "When you go through things some of these guys go through, none of us will ever know. I think sometimes it's time to sit back and reflect about really the importance of family and what that truly means," McElwain said. "We're with him. We're here. We're his family here. He'll fight through it and we'll expect him back when the time is right."
» McElwain on how well relationship building has been going between the players and coaches: "It's been awesome. Obviously a little bit different now cause we can actually come down here and be with them. That's really the fun; that's the fun of what we do is getting involved in these young men's lives and teaching them a lot about what success is. A lot of the same principles and fundamentals of success that help you be successful in life actually help you be successful on the practice field and on the game field. Being around them as been fun. Now, being able to get down here and run them every day, that's been kind of cool. Nah, that's been real cool. We got a lot of fun guys on this team, a lot of guys that really care about being Gators and really want to make this place great. When I say 'willing participants,' that's in all aspects, and they're a lot of fun to be around."