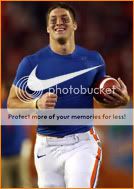 ESPN's Adam Schefter reports that former Florida Gators quarterback Tim Tebow has agreed to an endorsement contract with Nike. The global shoe and apparel brand, according to Schefter's report, signed Tebow to a deal worth just under $300,000 per year. However, it is said to include incentives that could significantly boost his pay likely depending on a variety of factors including sales and performance.
Since graduating, Tebow has already done a promotional appearance with Gatorade (a relationship that may continue) and is believed to be the cover athlete for EA Sports' NCAA Football 11 video game. He has also agreed to a partnership with Palm Beach Autographs for his John Hancock.
Seeing as the findings of a recent study had Tebow already being more popular and appealing than future hall of famers Brett Favre and Tom Brady and more of a trendsetter than Super Bowl winners Ben Roethlisberger and Eli Manning, there will likely be plenty of additional endorsement money coming in his future.
OGGOA will update this story as more information is made available.
Original Photo Credit: Donald Miralle/Getty Images